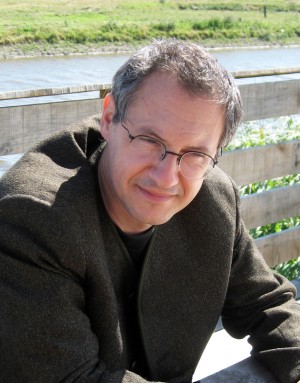 Born in Nantes on Jan 3 1962.
Strong influence from comic strips (mainly Astérix and Lucky Luke) from 1966 to 1969.
I take writing, drawing and painting at Secondary School in 1974.
High School studies in Nantes at Lycée Clemenceau (Baccalauréat Philo-Lettres).
Arts History registration at Université de Haute-Bretagne (Rennes-II).
Arts and Civilization History D.E.A (Master's Degree) in 1985.
Publications of comic strips and contemporary language aspects (arts, photos) articles from 1984 first term on.
Publication of three fiction works published by L'Atalante: La Pente (1989), Quotidius, (1990), Les Troglodytes (1991).
Humanities thesis PhD at Université François-Rabelais in Tours in 1992.
Arts Maître de conférences in Sept 1993. I mainly live and work in Orléans.
Resignation in Aug 2000 and get back to Nantes.
L'Université d'Oakland published by Gallimard Publishers in 2002.
In 2004, I met a screen print company boss on a flea market. Small talk about Tintin and invited to see his workshop. There, I have an idea of screen printing on metal which will allow me to paint without painting and draw without taking any pen. Bouteilles first picture is printed in Nov 2004.
Pygmalion Gallery permanent collection in Saint-Nazaire.
Taking part in "Belles Chaises" in Nantes and "L'Art prend l'air" in Pays de la Loire.
Taking part in #7 Clou (Société des Amis du Musée des Beaux-Arts de Nantes) and auction in 2009.